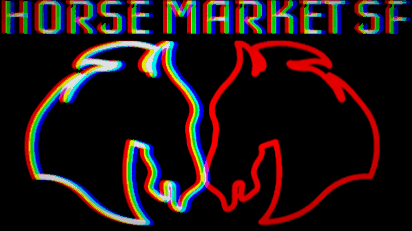 1/31/2022
Hey everyone! 
Hope you all have been well and healthy. This newsletter will update you on the recent Horse Market event in SF #20 & #21 best in show winners and update you on upcoming events that are planned. We are taking the month of February off to give Omicron its run, but we do have an event planned for March and two for April!
First let's announce the winners from the recent Horse Market events! 
The Stallions have voted and the Best in show Mares are
As you all know, the Best in Show Stallion is voted on by the Stable Hands and the votes are in! I do want to let you know however that the 1st place winner for HM #20 was a tie and normally in that case we would have two winners but, one of the Stallions did not want to get their photo taken so we only have the one winner for that event. For those of you who attend as a Stallion, please get your photo taken or you can't win. As always no faces are shown so no need to worry.
The winners for Best in Show Stallions are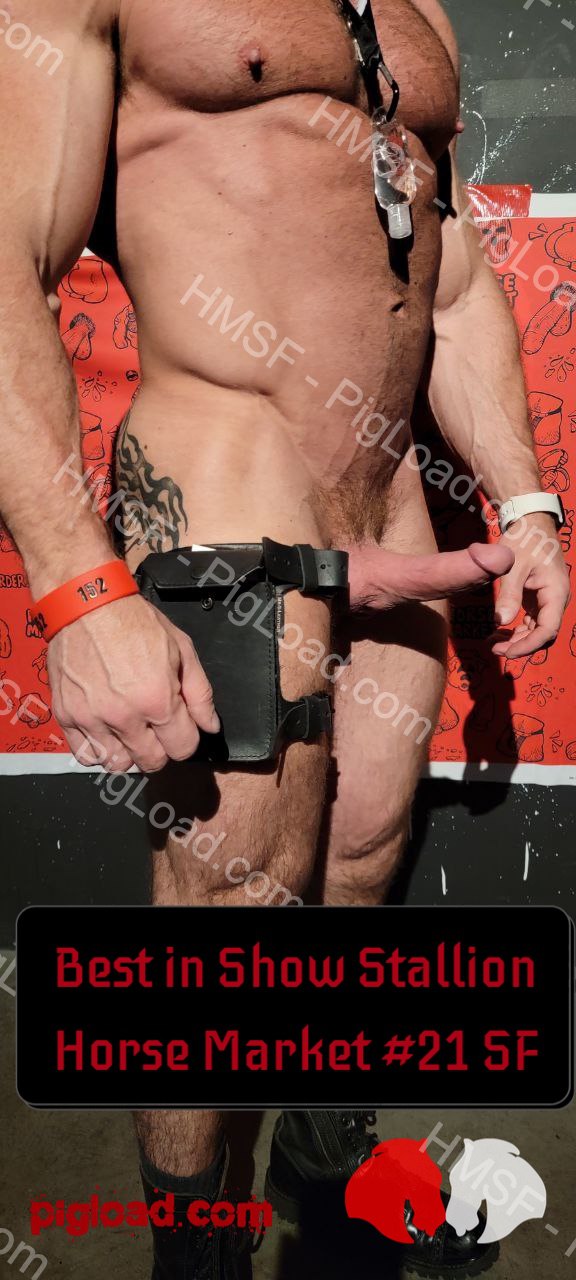 Lets give them a round of applause. The Best in Show winners receive a shirt that says "Best in show Stallion/Mare", a giant Dildo from Twitter: @SquarePegtoys (Squarepegtoys.com), @Pig_Load give you a gift coupon  and a free ticket to a future Horse Market event. If you want to check out all the previous winners, you can go to (https://horsemarketsf.com/bestinshow/)
Now onto the upcoming events. Finally, we are having the long awaited Portland Oregon event on March 19th! I'm VERY excited to finally be bringing Horse Market to Portland. Fun Fact: it's almost exactly 2 years ago we were going to have a Portland event before Covid-19 canceled it. Boy, time flies. We all have been waiting a long time and it's almost here!
The event will be Saturday March 19th at Sanctuary PDX Club Starting at 3pm. Yes, this is a DAY EVENT. I personally like day events as it means you still have your evening free to go out for a drink, get dinner, or whatever you want to do with your evening. There are not enough day sex parties in my opinion.
If you want to sign up to volunteer  or get a ticket to attend, click the link below. You will see all the info on tickets and the event. In that link, you can sign up for the Mare lotto or to purchase a Stallion ticket. NOTE: If you have a ticket credit from a previous event that you want to use, email me and I will give you instructions on how to redeem it. Can't wait to finally see our new Horse Market Portland family up in the Pacific North West.
Next up is April. April is a Busy month for Horse Market. We are planning on having events in 2 cities!
1st is San Francisco. This will be April 16th starting at 6pm. This will be held at the at Transform 1060 (Formally known as The SF Catalyst). Tickets will be on sale in a couple weeks so be on the lookout for that email.
2nd will be Cleveland Ohio. We will be having a Horse Market event in conjunction with the CLAW weekend. Horse Market won't have a booth at the vendor mart but Pig Load Lube will! Come on by and say hi. You can even pick up one of their Leather cleaner bottle toppers to help you get your leather cleaner faster 😉
Tickets for this event will go on sale at the same time as the SF event.
That's it for this email. I do not have any other cities on the calendar as of right now but I'm working on them. I do get all your emails about coming to your city and I would love to. Its just finding a suitable venue that's the hard part. 
Yes you may have a bath house or sex club but it has to have the right layout for a Horse Market. Just know we are always looking for new venues in other cities and Countries (Canada and Australia 👀). We are still in the pandemic and it makes it hard but we will be eagerly waiting and ready to jump on it. You can suggest a venue in your city via the button below. Stay healthy and see you all soon!
-Stable Master Matt Black-
-Stable Wrangler Martin-