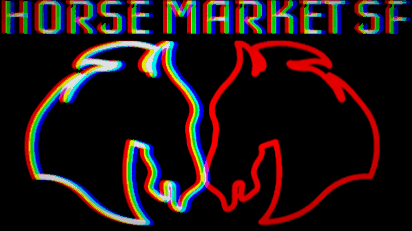 10/6/2021
The time is upon us to start the ticket process for Los Angeles Horse Market! This email is chock-full of information so I will give all the details below.
It will be held at the
CLAW LA 2021
event
at the host hotel on
Friday & Saturday November 26th & 27th.
(If enough people (hey stallions!?) want to attend, we have the option to add on a Sunday event)
For those who don't know what
CLAW
is, here is an excerpt from them:
Thousands of hot leather men from around the world will be under one spectacular roof in downtown Los Angeles this Thanksgiving weekend, November 24-28.  The pandemic rescheduled and relocated CLAW 21 which includes more than 200 events and exhibitors and unlimited opportunities for life changing hook-ups and life affirming experiences.
Some highlights:
20,000 sq. ft. Vendor area led by Mr-S-Leather from San Francisco.  Black Friday will never be the same! HorseMarket and Pigload.com will be there as well!

More than 100 Skills and Education sessions, including Bondage, Power Dynamics, SM, Sex, Community and Health

Dance parties, dungeon parties, sex parties and an ABDL playground

Banquets, entertainment, speed dating, auctions and much, much more.
Ordinarily held in Cleveland (and in April), the 20th annual CLAW will be at the extraordinary Westin Bonaventure Hotel.  Many Los Angeles based organizations are part of this year's event, including the LA Leather Coalition, Avatar LA, Payasos, Tom of Finland Foundation, Rough Trade Gear, Eagle LA and the Bullet.  CLAW is a volunteer-driven non-profit organization that has donated almost one million dollars to other community charities.
I have been to CLAW before and had a blast. If you can make it, come stop by our vendor booth and say hi.
Since Horse Market will be a part of the CLAW weekend, this means a few things.
1. We will have a huge space to hold the LA Horse Market in.  They are giving us a BIG room to fit a lot of you sexy pigs inside. Cocks and ass everywhere! We plan to have lots of places for you to mount a Mare on. Definitely an event to remember.
2. Everyone will need to purchase a $20 night pass to get entry into the hotel for the HorseMarket. This pass also lets you attend any of the CLAW evening events. If you are a CLAW attendee, your CLAW pass is your night pass. You can either get a one night pass from our ticket site or a 3-day weekend pass for $50 at the hotel.
3. As mentioned above, we currently have 2 days on the books for events. Friday and Saturday Nov 26th and 27th. When you fill out the Waiver & Vaccine form to get your tickets, there will be an option to put your name down for Sunday. If enough of you sign up for it, we will add on that day and email you all. Get your friends to come so we can have more hot sweaty sex!
Now onto tickets, volunteers and play furniture lending.
Volunteering:

Below is the sign up form with all the details

A special volunteer shirt and a free ticket come with volunteering!

You can volunteer for multiple days and only need to signup once.

There will be time for volunteers to get some play during/before/after their shift.

We may add on a Sunday event if enough sign ups for it.
Play Furniture Lending:
Some of you have emailed saying you have play furniture I could borrow for Horse Market LA. Below is a sign up form for anyone who has something they can lend us for the event in exchange for a ticket to the event. Think, benches, Slings, massage tables or other furniture you can play on. And also have in mind how hot it is to get it back knowing strangers fucked the hell out of mares on or in it! That should be price enough alone.
(If you live in San Francisco and have something I can use, let me know. I may be able to drive it down with me and bring it back after.)
Mare and Stallion tickets will be sold as follows:
Mare Tickets:

Will be sold via a randomized lottery. When you fill out the Waiver & Vaccine form, it will ask you which days you want to be on the lottery for and sign you up for those days.

On October 15th at 8pm PST we will randomly choose email addresses and give them instructions on how to purchase a ticket. They will have 24 hours to purchase a ticket or we pick the next person on the list. We find the first come first serve was not the best way to sell tickets with so many people wanting one.

The amount of Mare tickets are always based on the number of Stallion tickets we have sold, that is why we start the Stallion sale first.

Anyone who purchases a Mare ticket for one day cannot purchase another for the other day(s).

You may attend one day as a Mare and another as a Stallion.

Stallion Tickets:

After you fill out the Waiver & Vaccine form, you will be taken to the ticket site where you can purchase a ticket right now.
You may purchase a ticket for one or more days. But we need the waiver for both days.

If you have a saved ticket from a previous event, click Stallion on the Waiver & Vaccine form to go to the ticket page to claim your ticket credit
That is it for this lengthy email I will update everyone on future events as soon as we can get them on the calendar! Take care and if you have any questions, feel free to email me back!
-Stable Master Matt Black-