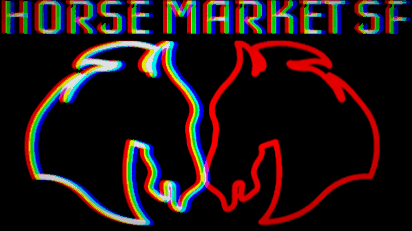 (The newsletter sign up form is at the bottom of this page)
3/28/2022
Hey everyone!
Time for an update. We just had the Portland, Oregon event recently and it was a success! The owner of the space loved how well planned the event was and how well all the volunteers were on the clean up. We all need to give my Stable Wrangler Martin and his Pig Load crew (@Pig_Load on twitter) a big thank you for all that he and his team do for the event. They are always a big help and have made Horse Market better in every way since helping!
I greatly appreciate them and I'm sure you all do too.
I hope that everyone who attended HM PDX had a good time and we are looking forward to making Portland a quarterly party. We are trying to shoot for late June or early July as a potential next Portland event. Just keep an eye out here because as soon as we nail a date, we will start selling tickets for it!
Let's all give a round of applause for the Best in Show winners for the Portland event.
We had a tie in the Best in Show Mares and one winner for best in show Stallion. We want to note that one of the Best In Show Mares is an employee of one of Horse Markets Sponsors. He was a regular attendee and we have no say in who wins. We tally up the votes given by the Stallions and at this event, there was a tie with #186 and #134. We just want to be transparent with you all!
As stated above, The Best in Show Mares are voted on by the Stallions at the event. We have a digital display set up to make it easier to collect votes and for the Stallions to find the Mare they are looking for.
The Best in show Stallion is voted on by the Volunteers of the event. This is not a big dick contest. They look for someone who is following the rules, who is having fun, being a fair sport to the mares and other guests, and enjoying many different types of Mares.
The winners of the Best in Show receive a Giant Dildo from SquarePegToys.com (The Leo Harness 1X Long), a special Best in Show Shirt and a free ticket to a future event!
(Below are previous Best in Show Winners. Click their name to go to their twitter)
Next on the agenda is to let you all know tickets and volunteer sign ups are open for the next 3 events. In order, we have: San Francisco, Cleveland during CLAW and Las Vegas.
Remember that Mare tickets are on a lottery system and are randomly released as Stallion tickets are purchased. This is how we keep the Stallion to Mare ratio at that perfect sweet spot. We cant do a first come first serve Mare tickets as we have no idea how many Stallions tickets will be sold. We would hate to have a Stable full of Mares and not enough Stallions to satisfy the urges 😈
As with all events, if you prefer to go as a Mare but dont mind the possibility of going as a Stallion, we are offering everyone the option to sign up to be a Mare and to also purchase a Stallion ticket. This will put you on the Mare lotto list and gets you a ticket as a Stallion. If you are one of the lucky random winners, and get chosen to purchase a Mare ticket, email us back and let us know you have a Stallion ticket and we will swap it to a Mare for you. If you are not randomly picked to be a Mare, you would attend normally as a Stallion.
(Note: Buying a Stallion ticket does not lessen or heighten your chances of getting picked in the lotto. The lotto list is completely separate from the list of who has a ticket)
Tell all your friends as the more Stallions we have, the more Mares we can have!
(Click the city banner below to go sign up)
That about covers it for this newsletter. We are working on new cities and some old so hang tight and be on the lookout for more info to come.
-Stable Master Matt Black-
-Stable Wrangler Martin-