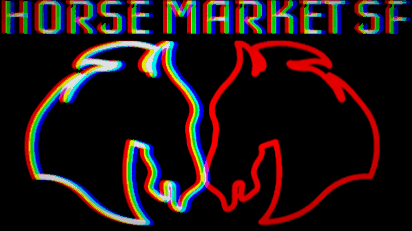 (The newsletter sign up form is at the bottom of this page)
4/5/2022
Hey everyone!
What is this? Another Newsletter? But you just had one! I know we just had one two weeks ago but I just wanted to give some updates on the upcoming events.
First off, I'm excited to let you all know that the upcoming April 16th San Francisco event is 100% Completely SOLD OUT! I don't think I've ever had a sold out event before. I've been close many many times but never completely sold out. Thank you all for supporting Horse Market and I'm looking forward to continuing to throw them.
The next Horse Market is in Cleveland during the CLAW event at the end of April. There are still tickets but they are going fast!
I don't think I covered this in the last newsletter but, my sponsor Pig Load Lube is offering a special on Stallion tickets to where you can get a ticket to both the Friday and Saturday event at a reduced cost. Since the first round sold out so quickly I talked to them and they agreed to pay for another round of discounted tickets. Get one while you can. And, if you already have a Stallion ticket for one day, and would like to join the other day, email me and I'll let you know how to add that 2nd day on for the same price.
Also, for those of you who are waiting on the Mare lotto: we have started to pull from the lotto. The amount we pull is always based on the amount of Stallions we have at that particular time. We will continue to pull from it up until the day of the event, or until it sells out. We never take anyone off of the list as we always get cancellations. When we get a cancellation, we fill that spot from the lotto list. Now, If you are on the lotto and are versatile, you should consider getting a Stallion ticket. This does not remove you from the Mare lotto list and if we pull your name, we will switch your ticket over to a Mare. If you are not chosen, you will attend normally as a Stallion. If you would like to join the lotto, get a Stallion ticket, or even sign up to volunteer, (volunteering you get a ticket to a future party) click the banner or button below.
And we are excited about another new city. Las Vegas! I guess SIN CITY has a new meaning when we arrive with the stable. We have some Las Vegas tickets for this May still available and the info about the Mare lotto and Stallion tickets above still applies here too. Pick up a Stallion ticket and stay on the Mare lotto. Sign up to volunteer or get your tickets from the banner below.
Share this page with all your friends and let's get them to join. If you are traveling, I would look up AirBnb as a place to stay. It's pretty cheap in Las Vegas. Normally I've found AirBnb to be more expensive than most Hotels but in Las Vegas it's WAY cheaper. We also have a Ride Share/Room Share group on Telegram where you can coordinate getting rooms and rides with other guests. This info is on the event page. I hope to see you all there! Click the banner below to get all the info.
Lastly on the agenda, new cities. We are constantly getting messages and emails asking if we will come to their city to have an event. I know this sounds like a broken record for some but just know, we are working hard on new events all around the country and even outside the US. *Cough* Canada *cough* Australia *cough* 😛

But, we are very particular with where we open a Horse Market and any venue we find has to have the right layout to have this special event. So stay tuned!

Also, you are welcome to help us find a great location when you share your ideas with us:
https://horsemarketsf.surveysparrow.com/s/new-city/tt-d24126
Below is a poll I've created to gain your feedback on a question that has been asked many times. Especially since one of my sponsors (Pig Load Lube) offers a discount code on Stallion tickets from time to time. There are other events out there that do this and I'm curious what you all think.
Here is our take on it. We always felt there should not be a different price for bottoms & tops. Reason being, it feels a bit unfair. Especially to the ones going as a Mare. Going as one role should not be more expansive. There are a couple events out there that do this and it seems to work out for them but we want your opinion to help us going forward.
-Stable Master Matt Black-
-Stable Wrangler Martin-