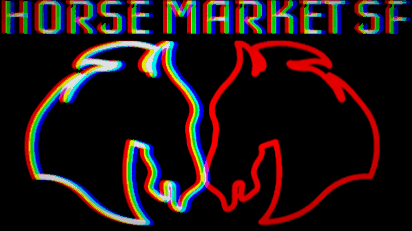 11/17/2021
Hey everyone!
This is just a general update on events as it's been a month since the last one. The next event is in LA alongside CLAW right after thanksgiving. 
You can get tickets here
At this time, all of the Mare spots are full BUT, we will add more as we get more Stallions. We like to keep the ratio at the right amount and as more Stallions sign up, we then pull Mares from the lottery waitlist. If you want to sign up for the lotto waitlist, you can do so under the ticket link above. Also if you cannot attend but know of someone who would love to attend or if you want to support HM feel free to send them this newsletter link or share it on social media! 
Also, I spoke with my Lube sponsor PigLoad.com and they said they would love to help anyone who cannot afford a ticket or if you are already attending as a Mare or Stallion one night but would also love to attend as a Stallion the other night. 
These are limited. Mare tickets are still only via the lotto. If you are already on the Mare lotto list and want to better the chances of getting a ticket, send this to anyone you may know who would like to sign up as a Stallion. I can't wait to see you all there. It will be a blast!
Also if you were thinking of attending CLAW in LA but have not made the jump, CLAW is doing a special on their passes. If you book a room at the host hotel, through the CLAWinfo.org site you can go to the event registration page and sign up as an attendee and put in the
Code: C21-HOTELPACKAGE
They will give you a free CLAW pass. This gets you to all the CLAW events and the leather mart where I and my lube sponsor will be sharing a booth selling merch. Come by and pick up some stuff! BUT THESE ROOMS ARE ALMOST SOLD OUT - so be fast!
--------------------------------
As far as future events go. We are working on new dates and cities. A lot of venues are either closed or temporarily closed due to the pandemic so it may be some time before we get to your city. I'm also on the lookout for new cities and venues too! (If you have a suggestion for a city and venue, fill out the New City form Here!
(https://horsemarketsf.surveysparrow.com/s/new-city/tt-d24126)
Below I go over each city and when I am trying to have an event there.
December:
I was trying for  PDX or Seattle for December but no luck as of yet. Maybe towards the end of January or in February.
January:
San Francisco  there will be 2 events Friday January 14th and Saturday the 15th. 
Tickets for these events are not on sale yet. Mark your calendars and be on the lookout for an email with ticket info.
Washington DC MAL
Many of you have emailed asking if I'm going to have an event during MAL in January. I would love to but I have not found a venue yet. I am still on the lookout but as of right now HorseMarket will not be there. I, the Stable Master, might go so If anyone needs a roommate let me know.
February:
Portland or Seattle
March:
Possible San Francisco  event
April:
Cleveland for CLAW 22  weekend, We are so happy to be there for the first time as an CLAW Event
May:
Possibly Chicago for IML (If I can find a venue)
June:
Portland or Seattle
July:
San Francisco. I will try for Dore Alley weekend but will most likely be the weekend before again.
August:
September:
San Francisco. I will try for Folsom Street fair weekend but will most likely be the weekend before again.
The cities and dates may change as I find new venues or the regular venue is booked and we have to do a different month. Be on the lookout for other cities and dates that may be added. We will always update you on new and changing dates in a newsletter.
-Stable Master Matt Black-
-StableWrangler Martin-